How to find a good aluminum truss supplier in China
16 Aug 2018
Can't deny China's status as a world factory. Choosing a good Chinese supplier can help your company earn more profits. But China which is vast and thousands of miles away, stage truss with such high quality bearing requirements. It is really very important but difficult to choose a good supplier. Don't worry, let us give you some tips.
1.how to find Chinese suppliers?
1).Internet is the most economic method.
Impute your products key words on Google,or B2B like alibaba and made in china.
Your key words can be aluminum truss,stage truss,stage,roof and so on.
2).Exhibitions is the best way to know more suppliers in a short time, search the related exhibitions,like Pro light,Get show PALM and so on.
Ask for the exhibitors list from the Exhibition organizer,they will very happy to provide.
Below is a picture about a professional aluminum truss company in exhibition.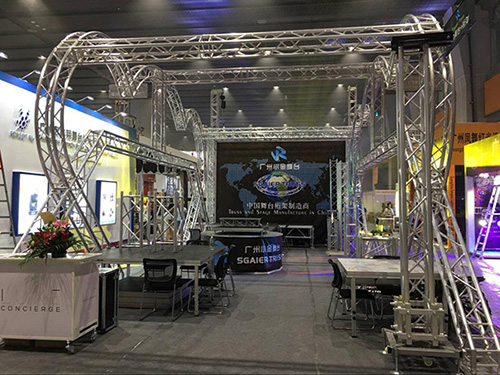 3).contact these suppliers by email or phone
4).Visit the exhibition or their company or invite someone visit them.
5).Your friends' introduction.
2.how to make sure the truss supplier is the one you want?
You should find a aluminum truss manufacture not a trading company if you are not the one time buyer or you want a better after sales service.
Check their website if they make many different products,
Usually manufacture focus on certain products because different products need different facilities which will be a big invest and truss manufacture don't do like that in usual.
Check their address,usually truss manufacture not in the city centre or CBD.
Below is Sgaier Truss factory.welcome to our company anytime!
We are located in Guangzhou city.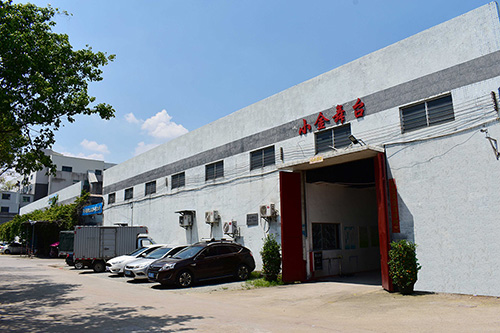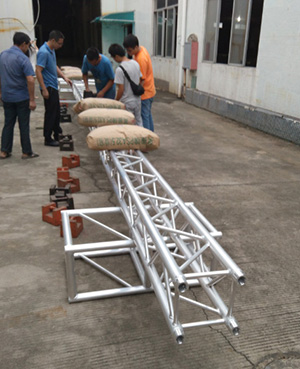 Tell them your requirements to see their response.
To choose a middle scale manufacture is the best option in usual,
They can cooperate you flexible and fast,their price should be at the middle range,
Don't choose the cheapest one before you don't know anything about them.
it might be different cost for the raw material which might with different quality.
While choose the most expensive one is not a good option for us buy from China right?
Ask the sales people if they enjoy their work and would like to work long in that company, if yes,that's a good start and good signal for you,your after sales service is highly guaranteed.
Professional engineer is a necessarily.forget the suppliers who don't have engineer at all.
3.How to make sure the aluminum truss quality is the one you want?
1) Take a trip to their company or check their truss quality on their exhibition booth.
2) you have workers who can inspect the quality before shipping.
3) You pay some cost to the third party like BV company.they will inspect and prepare professional reports before shipping, below is BV company in Sgaier Truss company.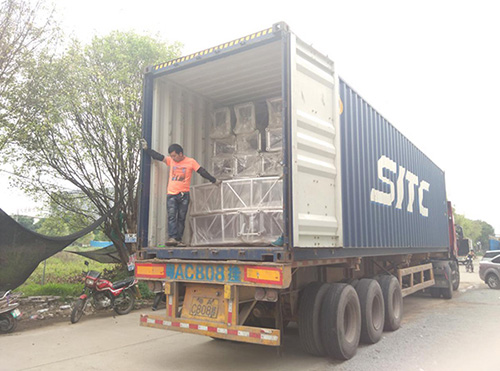 4)Tell the sales people how carefully you pay attention to the quality.
Send you pictures when finished.
SgaierTruss has a staff who do this work for every order.
Take picture before shipping and take picture when load container.
Check below picture at Sgaier Truss company.
Cooperate with Sgaier Truss,you can see your order pictures earlier.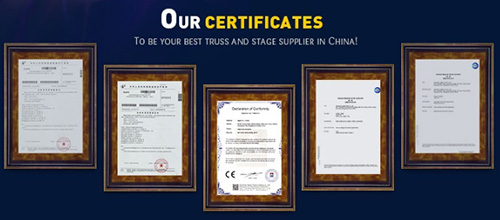 5)Certifications.
It is better for us to choose a truss manufacture with different certifications.
Customs will ask for certifications sometimes and the events organizer will ask for it.
Especially the roof truss,you must make sure the loading capacity is safe enough.
Or you cant bear a fall down truss in your business life.
Sgaier Truss company with CE TUV SGS and some patent certifications for some products.
Ok,if you want to know more about how to check the truss quality,
Just contact me 24h by phone 0086-18127852766.